Last updated on August 10th, 2015
Ahhh, New York!  Home sweet home.  When I say "New York" what's the first thing that comes to mind?  I've traveled a good amount in my day.  I've been to Oklahoma, Kentucky, Iowa, Canada (just over the falls), Puerto Rico and most of the eastern and northeast U.S. A.  In addition, I've met and spoke with any number of persons online from all over the world.  From my experience whenever a person says they're from New York, it elicits visions of skyscrapers, Times Square, lights and a bustling city life.
You can imagine some of these individuals' surprise when I mention little things such as; my graduating class from high school was a little less than 100 students.  And we were a central school, pulling students from a wide region that included kids from over half a dozen villages and a good number of hamlets (who did not know poor Yorick).  Skyscrapers are called "trees" here.  Lights are called "stars" and our bustling life is the three or four cars ahead of you dropping your kid off at school.
---
So what's the deal?  Why do so many people have such a skewed perception of where I live? I mean, I grew up in a town where there's only year in my lifetime that there were more people than cows.  Then a farm expanded and the status quo returned.  Some math will help this dilemna out I think.
New York, as a state, covers an area of 54,556 sq mi (141,300 km2) per some fast Wikipedia research.  The population of the state is a little under 20 million.
New York City takes up about 470 sq mi (a little over 1,200km2 ) which is less than 1% of the total area of the state.  However, the population is estimated as over 8 million.  In other words, over 40% of the population of New York state lives in less than 1% of the total land mass.  Add in the greater NYC metropolitan area and the result is that well over half the state is tucked away in a neat little corner.  Thanks for all the extra elbow room!

So for us Western New Yorkers we feel like we're the "real New York."  For instance, the rural county I live in occupies roughly 25% more land than New York City yet if every single person who lives there went to go see the Buffalo Bills play (I have a pic later) we wouldn't even be close to selling out the game.  But what are we known for?
I could probably write an entire article on food.  Hot sauce is big here. Whether it's the famous Buffalo Wings (just "wings" here, we know where they're from), the local treasure of a Garbage Plate or a wide variety of other specialties, we're no stranger to hot.
Or what about local produce?  Find me a better apple and I'll probably kick you in the shins and deny you did so (which means we have great apples).  Cows mean excellent dairy products and some of our local ice creams are off the charts good.  Cheese too. If you see a container of Intense Chocolate Milk and have never tried it before, do your taste buds a favor and buy it immediately.
Corn is about as rare as air molecules in the summer.  The same goes for blackberries, wild strawberries and more.  In the fall we can put pumpkins, beets, potatoes and way way more produce to good use.  Our bees use a variety of local resources (like apple blossoms) to provide honey.  This complements our top notch maple syrup industry as well.
Looking for a more adult time in New York?  The Finger Lakes region produces more barrels of wine per year than I'd care to think about.  Many obtain excellent reviews on a national and global basis.  But since New York is not considered an "old world" style wine producer we take some risks which result in bottles that can be hard to find elsewhere.  Have you ever tried a cranberry blended wine? The competition in wineries in the category of ice wine is huge around here.  In my opinion this means everyone is the winner.  Recently many people realized that hops grow amazingly well right next to those grapes for wine.
The New York beer industry, while fledgling in age, has exploded in the last few years. Again, everyone is a winner here.  And don't forget the hard hitting stuff.  Distilleries (thanks to some recent revisions to local laws) have begun springing up as well.  At just one location, my wife and I were able to sample cordials that were to die for, grape infused vodka that was as smooth as silk and bourbon that rivals most of the stuff from Kentucky (based on mine and expert opinions).  Remember those bees?  They help out with some fantastic honey notes and even mead if you know where to look (I do).   Amazing. Then of course there's the option of just letting  some apple cider sit around a wee bit and ferment.
We're also pretty (in)famous for our winters and cold.
But despite the mini article I just wrote…this is about the natural beauty that's as big of a departure from the city as one can get.  Now that you're hungry, let's get to it. If you're looking for something to see or do, the "what" is going to depend on the "when."  So let's explore things that way, photography style!
First up: Spring
Spring of course means flowers blooming (eventually) and things becoming green again.  But first it means brown here.  It means temperature that can swing from literal freezing to hotter than blazes in the space of a few hours.  Outdoor activities start to become prevalent again but mostly walking and bike riding.  State Parks (one of the best reasons to come here) open up again or resume full access.  Mud and still cool to cold temperatures are common enough where we stick to the basics for the most part.  As the sap starts to flow freely, it's officially maple syrup season.
Summer
Summer is a tricky thing in New York.  I've seen snow as early as August, although it didn't have  a chance of sticking.  While overall it's quite warm (to incredibly hot) there's always the risk of a cold day still.  This is the time of year where it gets hard to book a cabin at a state park and rural tourism flourishes.  Camping has no shortages of great areas from rivers, to creeks and lakes. Fairs and festivals are booming at this time as well with some dedicated to local specialties.  Onion fest anyone?
Fall (Autumn) 
So going back to my small school.  Not only was the class size affected by the area, so were the courses taught.  For instance, my landscaping class in high school.  The midterm exam consisted of: Here's a chainsaw, go cut a tree down (that should be cut) without killing anyone.  I got an A.  Some of the more useful things we learned was the effects of temperature on leaves changing color. I tried to get a nice picture this year of a valley with trees on both sides but some haze thwarted that multiple times.  Last year (see the orangey tree below) we were treated to some interesting pinks and oranges due to a slow cooling.  This year we had a week or better of fairly cold temperatures.  This can produce the more vibrant hues.  Since I couldn't get the valley shot here's a couple leaves (from the same tree mind you) that show off the craziness of this year.
This little guy on the left will most likely end up as primarily yellow. Notice the areas away from the main structures are losing their green. The red here is mainly due to damaged areas that were more susceptible to the cold snap. The leaf on the right shows the red as far more pronounced with little of the green turning to yellow. This leaf likely has been assaulted with more steady cold than other parts of the tree due to wind direction, sunlight exposure (Praise the Sun) or the like.  Below is that orange tree I mentioned (that was actually more pink than the camera captured) and a nice shot going up a hill.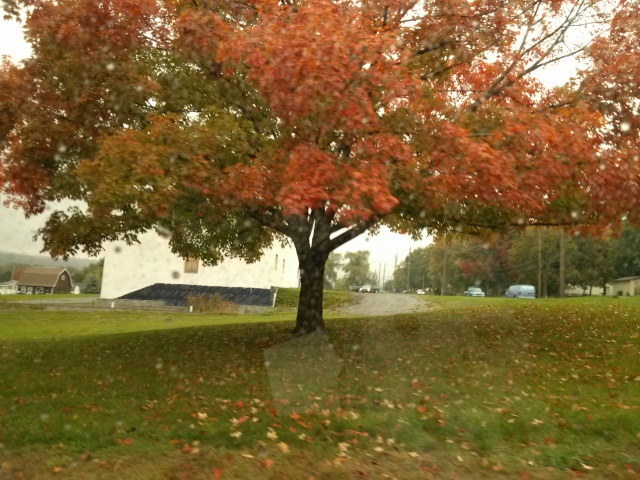 Winter
Winter is the time for cozy blankets and hot cocoa.  Also; sledding, skiing, crashing your SUV because you think 4 or all wheel drive means physics don't apply anymore and of course football. How bad can winter be around here?  Every year the Weather Channel does  a football article about the cities with the worst football weather (aka "weather in general").  Every year is pretty much the same article.  Is it Green Bay with it's super low temperatures?  Nope.  Is it Chicago, with the crazy winds to go with winter?  Nope.  Is it Denver, a city known for snow in a state known for snow?  No again.  It's Buffalo.  Where the temperature can be just as bad as Green Bay, the average wind speed makes Chicago look like a breeze (I'll illustrate my point later) and the average snowfall is drastically higher than Denver (for real).  It's actually a point of pride around here how much our weather sucks.
Remember where I said I'd illustrate how bad things can get weather wise around here?  Well the snow you can see (and this is not the worst by far).  The temperature is one I bet most people don't doubt (I've shoveled snow in -20F, in shorts of course).  It's the wind that people don't believe me on.  I remember a time in college coming back to my dorm where I took a step forward and stopped.  The wind was so bad I had to wait as I couldn't make moving forward a reality.  At the time I was about 175 pounds and quite athletic.  Nope, not gonna cut it.  I have seen smaller classmates get knocked over.  Hats require staples to be worn.  Look above at the football picture.  See the yellow goal posts? See how thin those pipes are?  Buffalo has seen those twisted and pushed over (during a game no less) by wind.  I don't think anyone spilled their beer though.
You can read more travel articles here.
Categories

Tags

Author

Date