Last updated on June 18th, 2019
Welcome to the Top Upcoming RPGs of June 2019! In this series we highlight the Top 5 RPGs for the upcoming month. In this edition, we're going to take a look at each of the titles, talk a little about each, and then explain why we think they deserve to be on the list. So join me now and find a mixture of some hidden gems and old favorites given a shiny new coat of paint.
Top 5 Upcoming RPGs Of June 2019
Last month saw some classic titles make their way onto more platforms as well as a newer title touching down in early access. This month brings some classic titles but with a modern spin, these should keep you busy until we get more gaming news during E3 2019 which is fast approaching. Enjoy a mix of turn-based, side-scrolling and some fantasy action combat as we dive into the month of June.
Honourable Mention: Elder Scrolls Online: Elsweyr
Release Date: June 4th
Platform: PS4/Xbox One
Developer: Zenimax Online Studios
Publisher: Bethesda Softworks
This month's honourable mention goes to Elder Scrolls Online: Elsweyr expansion. Last month was the early access release on PC, this month it joins Playstation 4 and Xbox One. Introducing a new class called Necromancer where players will use the power of the dead to inflict their attacks. With a choice of Gravelord Skills will imbue the dead with Frost, Fire or Lightning, raise hordes of the undead to attack your enemies. Bone Tyrant Skills will bend and break the dead to your will, creating a impenetrable wall and increase your own survivability. Living Death Skills draws powers of life and death, helps to restore your allies and resurrect your fallen comrades to bring them back to the battle.
The chapter introduces the new area of Elsweyr to explore, the birthplace of the Khajiit, where you can learn all about their history and culture. They will need your help to defend their homeland against the merciless dragons.
Elder Scrolls Online: Elsweyr releases on PS4 and Xbox One on June 4th and is available on PC. If you're curious to find out major additions coming with this chapter be sure to check our Elder Scrolls Online Elsweyr: 6 Biggest Changes video.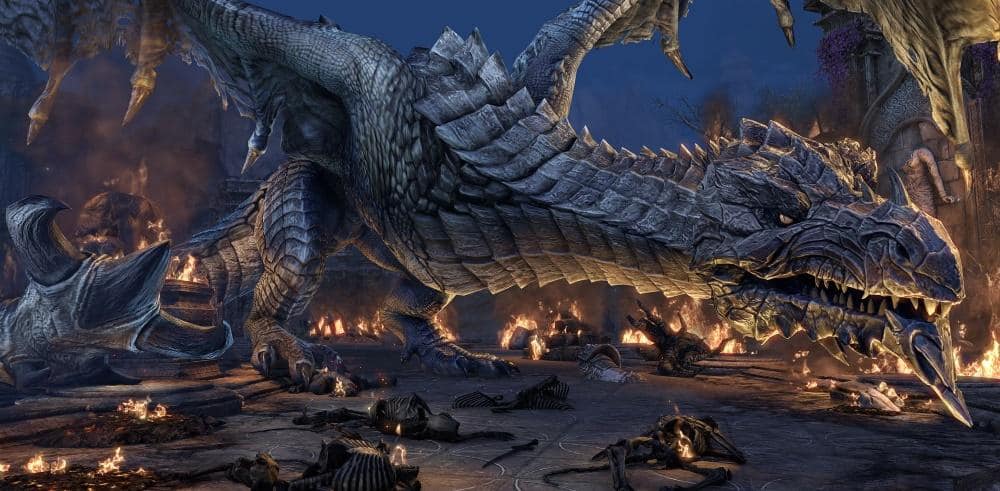 5. Dragon Star Varnir
Release Date: June 11th NA/June 14th EU
Platform: PS4
Developer: Compile Heart
Publisher: Idea Factory
Dragon Star Varnir is a JRPG that follows a young warrior by the name of Zephy who is part of a group who spends their time hunting down witches. These witches are people afflicted with the curse of giving birth to dragons. Zephy comes close to be being killed on a hunting mission but is saved by two mysterious witches, the very people he is suppose to kill. They bring him back from the brink of death by feeding him dragon blood. Now experiencing new magical abilities, Zephy reluctantly becomes part of this band of witches in fighting against the very Empire he swore to protect.
The unique battle system splits the battle field into three different layers, meaning only physical attacks can hit foes on the same layer. While magical attacks have a wider range of reach, affecting all layers. Use your party of witches and their abilities to best enemies, with dragon forms issuing powerful finishing moves. See special in-game events by charming these witches in order to gain their affections which unlocks their affinity levels.
Dragon Star Varnir will be releasing June 11th for North America and June 14th for Europe. It will be available physically and digitally exclusively for PlayStation 4.
4. Super Neptunia RPG
Release Date: June 20th (PC)/June 25th (PS4/Switch)
Platform: PC/Switch/PS4
Developer: Compile Heart
Publisher: Idea Factory
Super Neptunia RPG follows the story of Neptune who wakes up in a familiar world but has no memory of who she is or how she got there. With the only knowledge of her name, the help of a strange girl named Chrome and a few familiar faces from the Neptunia series, Neptune will venture on, to piece together her memory. But their world is in peril, being attacked by an enemy that wants to turn their world back into 2D. Will Neptune and her band of companions keep the their world in 3D or will it slip into 2D forever?
The side-scroller, Super Neptunia RPG is a 2D hand-drawn style game that offers interactive dungeons, turn-based battles and elemental attacks. Use your party of four goddesses to unleash a combo of attacks in battle, using different formations consisting of Strike, Magic, Support and Heal. Use their Skills and Abilities to unlock weapons, armor and new accessories.
Super Neptunia RPG releases on PC on June 20th, then on Playstation 4 and Nintendo Switch on June 25th.
3. Octopath Traveler
Release Date: June 7th
Platform: PC
Developer: Square Enix
Publisher: Square Enix
Square Enix released their JRPG Octopath Traveler as a Nintendo Switch exclusive upon launch last year. Now its coming to a new platform this June, meaning players can now journey into to the world of Orsterra on PC, in this turn-based RPG. Players will get to choose from eight different characters, each with their own immersive backstory as well as abilities in the fantasy world of Orsterra. The world although is told through the eyes of eight different characters is shared between the cast, which you may bump into later in your adventure.
Those who have played previous Square Enix games especially early Final Fantasy titles will definitely find the gameplay to be quite familiar, however there is a modern twist with the added "boost" mechanic which gives increased power attacks and combos during each turn. The title also lets you summon NPCs to help out in battle for short term, which adds some useful assistance when the fights get tough.
Octopath Traveler is currently available to play on Nintendo Switch and will launch on June 7th for PC.
2. Warhammer Chaosbane
Release Date: June 5th
Platform: PS4/Xbox One/PC
Developer: BigBen Interactive
Publisher: Eko Software
Warhammer Chaosbane takes on the first action-RPG to be set in the Warhammer Fantasy universe. Players will be able to adventure through several well known places in the Warhammer universe including the cursed city of Praag and Nuln, known as the Empire's old capital. You will serve Magnus, a soldier who has helped to bring together the warring factions and lead the united front against the Chaos. However, Magnus gets cursed by a sorceress who you will need to track down in order to reverse the effects.
There are four classes to choose from in the form of characters, which will alter the type of combat you will experience but ultimately Warhammer Chaosbane is a hack and slash. If you choose the Imperial Soldier, combat is up close and personal, while a ranged class such as High-Elf Mage or Wood-Elf Scout will create distance between yourself and the enemy. Or choose the Dwarf Slayer to bring fury in the form of spinning axes. But each class has its own unique archetype ability which adds a different feel to your usual RPG gameplay.
Warhammer Chaosbane releases on June 5th on Playstation 4, Xbox One and PC.
1. Bloodstained: Ritual of the Night
Release Date: June 18th/June 25th (Switch)
Platform: PS4/Xbox One/PC/Nintendo Switch
Developer: Artplay
Publisher: 505 Games
Its been a few years since Bloodstained: Ritual of the Night was successfully crowdfunded on Kickstarter back in 2015, putting the action side-scrolling RPG into motion under the Castlevania director Koji Igarashi. The title has gone under a major visual overhaul during its development as the developers listened to feedback from the community.
Bloodstained follows the story of protagonist Miriam, an orphan who is afflicted by an alchemist's curse. This devastating curse is slowly transforming her skin into crystal. In order to reverse the effects of the curse, she must enter a demon infested castle and locate a summoner named Gebel, who is also suffering under the same curse.
Experience exploration, crafting, levelling and even upgrading abilities. Abilities ranging from shooting arrows to summoning a giant tentacle to strike at your foes. Create weapons from materials you loot or items you dismantle. Expect to face larger than life fantastical bosses, a mixture between mythical creatures meets reality, including a giant dog head or even a huge cat-like creature with horns that swipes at you.
Bloodstained: Ritual of the Night is releasing on PC, PS4, and Xbox One on June 18th, while the Switch version is arriving a few days later on June 25th.
That's a wrap for the Top RPGs of June. Did I miss your favorite June release? What games are you most looking forward to this year? Please let us know in the comments below.
---
You can also check out the Top RPGs of May 2019.
So, do you want more? If so, you can find more Top RPGs for 2019 here.
Categories

Tags

Author

Date