According to a recently deleted tweet, Diablo the popular MMORPG from Blizzard could be getting it's own animated Netflix series.
Netflix Animated Diablo Series On It's Way
Boom! Studios founder Andrew Cosby sent out a tweet earlier in the week that shared he was in "final talks" to write and show-run the series for Netflix from Activision. He also shared "It's very exciting and I hope to the High Heavens it all works out".
A previous reply to a fan's question about whether or not he was working with Netflix for the previously rumoured Netflix show, he said to get back with him in future about it. The tweet that confirmed he is in fact working on the series was then deleted, it teased that the news would be shared in a more official future announcement.
The tweet has since been deleted, as it was probably not ready for public dissemination but well, the internet is forever!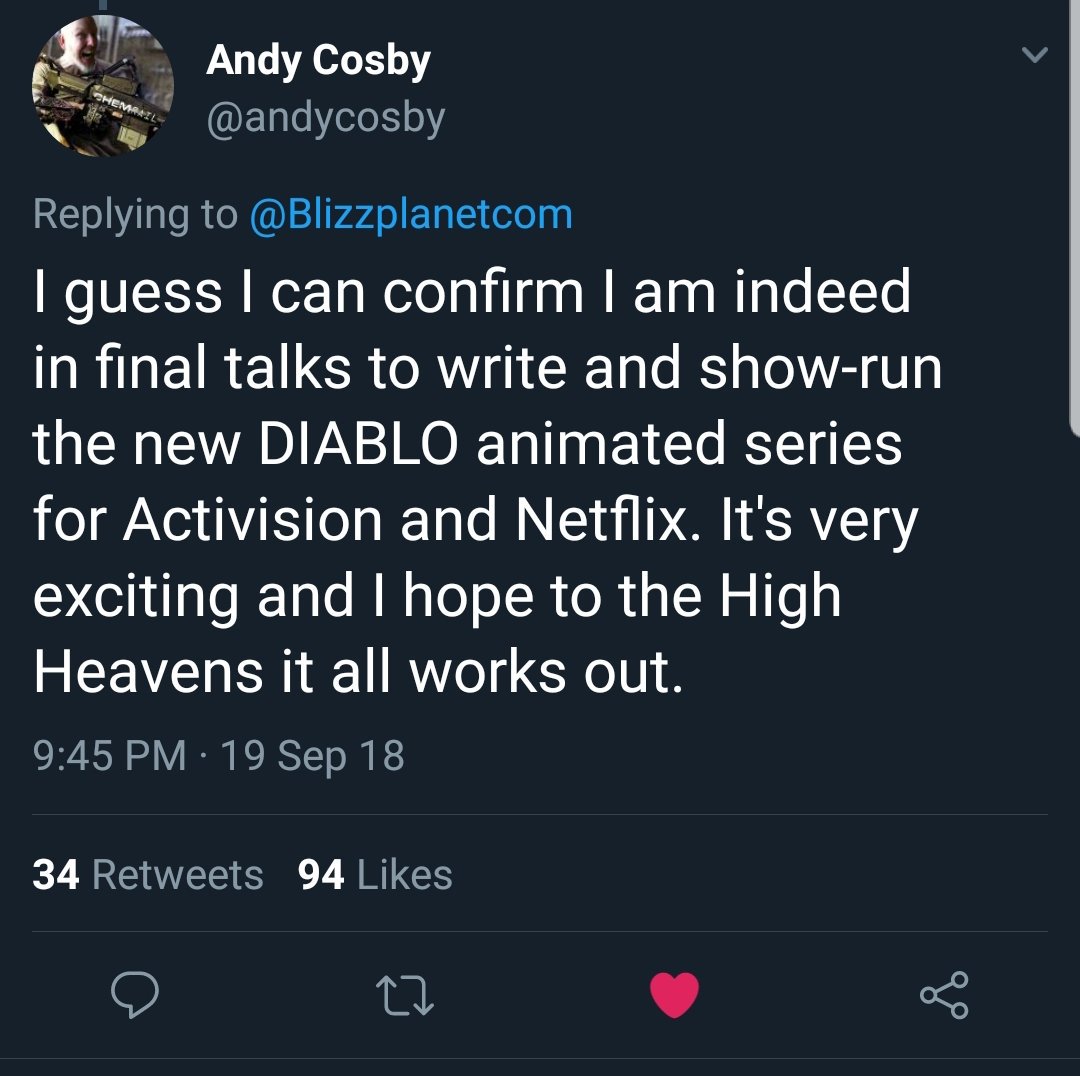 There is no confirmed information about what the Diablo series will contain, but Cosby is working with the writer behind the new "Hellboy" film reboot. Netflix is no stranger to taking on similar projects, such as Witcher.
There doesn't seem to be any other word about this series yet, but we'll keep you posted with any updates as we get close to Blizzcon which is in November. Diablo III is the latest in the franchise, available on PC, Xbox, PS4 and will be making it's way to Nintendo Switch on November 2nd 2018.
---
For more Diablo news find it here in Diablo III: Eternal Collection To Launch On Nintendo Switch In November and Blizzard Reveals Multiple Diablo Projects In Progress. If you want a rundown of the latest news, you can find it here in Top RPG News Of The Week: September 23rd 2018 (Red Dead Redemption 2, Thronebreaker, Dark Souls And More!).
This post is also available in:
Français
Categories

Tags

Author

Date