Now now, don't run away! We have the
Fallout 4 WIki
creation in full swing, but if you haven't been following the news bits, this game is going to be massive in content. Much more so than Fallout 3, especially with the addition of the crafting system which looks deep and awesome so far. There is going to be a a lot to do in page creation, to catalog all the various items, mods, weapons, quests etc that come up so we are going to keep things organized via this thread. Post ideas, challenges, updates here and we can stay well and coordinated! The wiki needs some tender loving care and We Want You!
Ok so our progress so far is we have the basic navigation framework pretty well set. There may be some minor changes here or there as more info goes out. We are presently in the process of creating templates for all the large categories: Weapons, Armor, Mods, Items, Materials, Enemies, Locations, NPCs. Once we get those templates formalized we will need a lot of help creating the individual pages for each category. It will be really straightforward work. It's pretty crazy just how much info is already out there ready to be wikid.
Pages like weapons and armor are ready to be populated with the info that is already out there:
https://fallout4.wiki.fextralife.com/Weapons
https://fallout4.wiki.fextralife.com/Armor
All of those pages are created for the individual pieces we know about and can be filled in.
Things the wiki needs:
Tables filled with relevant data
Images for weapons, armor, items, etc
As you're reading articles that cover the game, any tidbits of info can be added to their relevant pages, even if it's only a sentence or two. The key is to just get it on there, we can go back through and clean it up later
Screenshots, videos and concept art that can be added to the wiki as well as get information from
Help spread the word by sharing links with friends and fellow gamers on useful pages and giving those helpful pages a Google +1
Beyond that this is the perfect time for suggestions and ideas. The more that we kick around now, the better organized the wiki will be when the game releases. We are all already excitedly discussing the game so this is a great opportunity to work together on creating something. As you know, wikis are the lifeblood of the site and the better they are the better for the whole community here!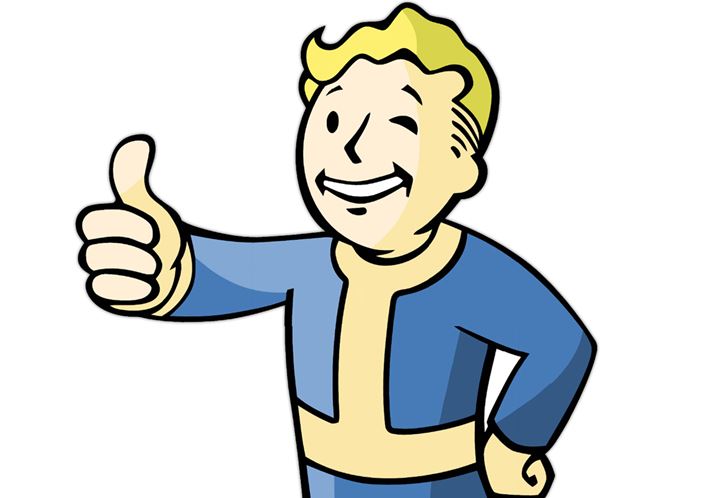 (In his most iconic image, Vault Boy is seen smiling, with one eye closed, an arm outstretched, fist clenched with a thumb raised. This has been commonly misinterpreted as a "thumbs-up" signal to the viewer. In reality, it's an old, pre-war disaster preparation sign. Supposedly, if you were unfortunate enough to be outdoors in the vicinity of a nuclear attack, you were supposed to stick your thumb in the air. If the blast cloud was smaller than your thumb, you were outside the danger zone.)