#1
Tue Apr 29, 2014 5:38 pm
All thanks goes to gibbed/rick.
http://pastebin.com/DLpHA40C
All languages hosted on his site.
http://mod.gib.me/darksouls2/ngword/
Remove your censor by:
You can change your character name by editing your savefile, which can be rather risky. You can remove the filter from your game by replacing the filtered words with another language's words:
Go to Steam\SteamApps\common\Dark Souls II\Game\NGWord\
Copy the single file in either the Chinese or the Korean folders, and drop it in the English one. Gif via
bobsplosionx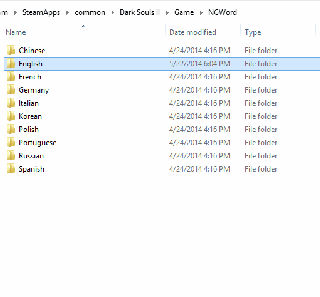 Last edited by
Fexelea
on Thu Jul 31, 2014 7:36 pm, edited 1 time in total.
Reason:
I added some extra information